A low calories ingredient kept in mind while cooking gajar ka halwa is the perfect halwa that can be enjoyed by anyone whether it is a kid, youngster, or elderly person. A measured amount of ingredient and low calories and high fibers gives the benefits of healthy living.
Gajar ka halwa is a popular Indian dessert made from grated carrots and milk. It is a traditional winter dessert in India and Pakistan. The dish contains lots of vitamins, calcium, and fibers. I make this dish mainly for Eid and on winter's seasons because I love the flavor and taste which is awesome and delicious.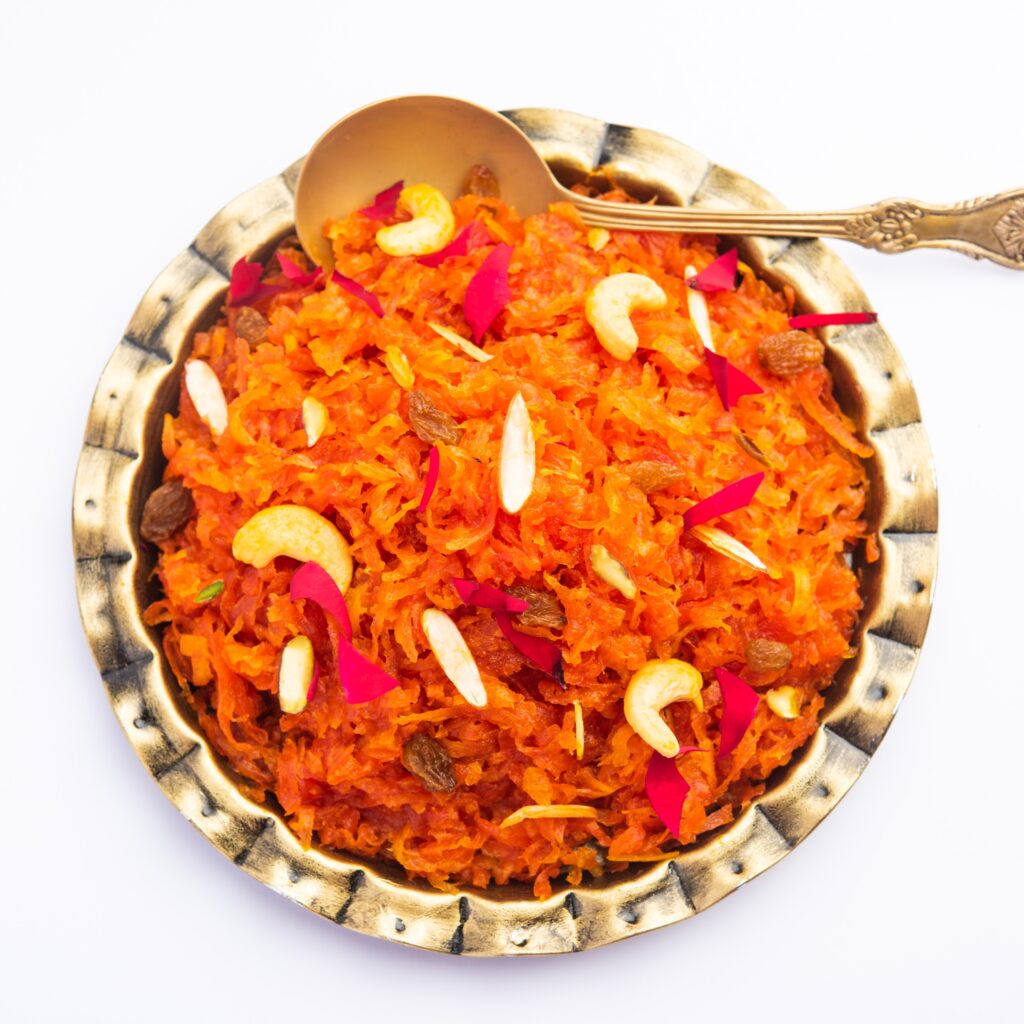 There are many variations of Gajar Ka Halwa recipe in India, but the most common one has the following :
Ingredients:
grated 1 kg carrots,
2 litre milk,
75 gm sugar
250 gm ghee,
500 gm mawa,
garam masala (elachi 4 piece, long 4 piece, dalchi 2 pieces)
Raisins, nuts for decoration (usually almonds and cashew).
Gajar ka halwa is made of grated carrots cooked in thickened milk with sugar, raisins, garam masala.
I prefer making Low calories Gajar (Carrot) Halwa is a good and healthy source of Vitamin A, Calcium, and Phosphorus. As the name suggests it is wonderfully low in calories and also known to be a dish that helps to lose weight because it has a high content of fiber. In general, dark color carrot contains a high number of fibers which helps a body to reduce weight.
Low fats gajar halwa is enjoyed by everyone and it's very good for weight loss, for diabetic, for the kids, and those who suffer from heart diseases for healthy living.
It's a healthy dessert that doesn't need any other ingredients that harm your health. All we need is to make this gajar ka halwa with a simple ingredient that is available easily and mostly stored in our kitchen and refrigerators. It can be served hot or cold after cooling down.
Method of making Gajar ka halwa are:
Pour the grated carrot in a large pan and let the carrot steam dry in a low flame.
When all carrot steamed are dried up add 2-liter boiled milk.
And stirring in between till it mixed well and doesn't stick at the bottom.
When all the milked are soaked in the grated carrot and it comes in the process of boiling switch off your gas stove.
Then take another large pan add ghee to it.
When the ghee is heated little bit add all the garam masala to it.
And then immediately pour all the milk-soaked grated carrot from one pan to another pan in which ghee and garam masala has been prepared.
Then mixed it well in between continuous stirring till it smells good
Then add the sugar and mixed it again till it been cooked properly.
Lastly add all the cashew and almonds on the top for garnishing and serve it hot or cold after cooling down.
Gajar ka halwa is an autumnal dish that comes in various varieties with slight differences in each recipe. This sweet dish is elaborated using carrots, milk, sugar, garam masala, mawa, ghee, and nuts.
Gajar Ka Halwa is having a very wide range of acceptance all over the world because it has a good presentation and can be eaten by everyone without fail.
Gajar ka halwa is a dish that is liked by most people of every age group. Gajar Ka Halwa by Rachna Mishra has a mentionable number of good vitamins and minerals.
Gajar Ka Halwa can be prepared within 30 minutes. The time taken for cooking Gajar Ka Halwa by this recipe is 10 min, but the time taken for preparation is 20 min. Gajar Ka Halwa high calories are due to its milk content otherwise low-fat milk and a combination of dark carrot which has high fiber help in reducing weight.
Most people want to cut down on sugar in their diets but still want to enjoy desserts occasionally so they can use sugar-free powders that are easily available in the market.
Conclusion
Gajar Ka Halwa is one of the popular INDIAN & PAKISTANI sweets and can be served at any time of the day. It has a unique taste that makes it more desirable to eat. A dish that is been made by everyone no matter what the occasion is, Eid, Diwali, or Pujas all enjoy the flavor and taste of melting gajar ka halwa.